5月7日にサンフランシスコでVIZシネマの日本怪獣トークショー!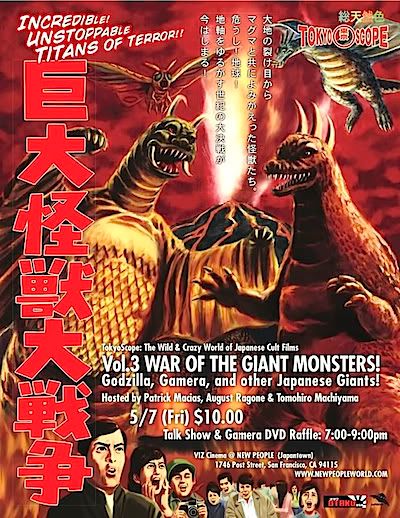 VIZ Cinema in San Francisco's Japantown is presenting the 3rd talk in the "TokyoScope" series. This time it's "War of the Giant Monsters", all about Japan's Giant Monster Cinema, on Friday, May 7th at 7:00pm. Join
Otaku USA
Editor-in-Chief Patrick Macias,
Eiji Tsuburaya: Master of Monsters
author August Ragone, and Japanese film critic Tomohiro Machiyama at the Bay Area's hottest film venue for a fun and lively discussion on the "kaiju" (monster) movies featuring rare images and clips of Godzilla, Mothra, Gamera and other iconic creatures from classic Japanese sci-fi cinema.
This "Kaiju Shakedown!" event will also feature a special raffle giveaway of premium monster collectables including the brand new DVD release from Shout! Factory of GAMERA: THE GIANT MONSTER (1965), which will be released on May 18th. The revered classic features the original Japanese version of the film presented with fresh English subtitles and anamorphic widescreen produced from an all-new HD master created from original vault elements. General admission tickets are Adults: $10.00/Senior & Child: $8.00.
"War of the Giant Monsters" kicks off VIZ Cinema's GODZILLATHON film festival taking place Saturday, May 8th through Thursday, May 13th, featuring brand-new 35mm screenings of GODZILLA VS. HEDORAH (1971), GODZILLA VS. GIGAN (1972), GODZILLA VS. MEGALON (1973), and GODZILLA VS. MECHAGODZILLA (1974)—all in their original Japanese versions with English subtitles! For more details and screening times go to:
www.vizcinema.com
VIZ CINEMA • NEW PEOPLE MALL • JAPANTOWN
1746 Post St,
San Francisco, CA 94115
Tel: 415-525-8600