A creepy cryptful of moldy Bay Area Monster Kid memories!
New book that urges you to watch horror films, keep America strong!
If you grew up in Northern California during the mid-1960s through the early 1980s, chances are high that you were aware of legendary television host,
Bob Wilkins
, who became best known for hosting horror film packages on KCRA-3, KTXL-40 and most notably in the San Francisco Bay Area on KTVU-2's "Creature Features" — an incredible ratings sensation which became a local institution that routinely beat all the competition in its time slot, including network programming such as "Saturday Night Live." And he meant the world to a whole generation who grew up watching him on television. He was our horror hero!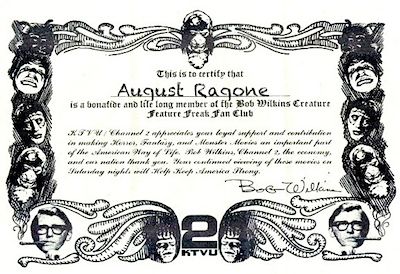 Bob Wilkins Creature Features Freak Fan Club certificate, circa 1971.
A mild-mannered, but wryly hysterical, character hailing originally from Indiana, Bob found a job in California at Sacramento's KCRA-3, quickly became known for his wit and timing, and would be asked to host company luncheons, and other social functions. Eventually, he was put before the cameras, and by 1966, was the station's own "horror host," who rejected wearing a costume or cape — he just came on the air as himself. Armed with only a cigar, a rocking chair (to mask his stage nerves), and his off-the-cuff humor, Bob would tell viewers, "Tonight's movie is so bad, it was delivered to Channel 2 in a plain brown wrapper. No return address."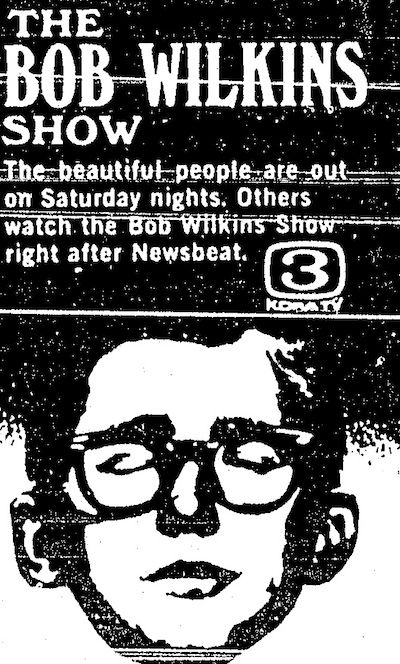 Classic TV Guide ad, November 30, 1968. Courtesy of Floyd Perry.
Bob's witticism was also reflected into the humorous and iconic ads featured weekly in the pages of the local "TV Guide" magazines, and fans would clip and save them in scrapbooks, like I did. Of course, over the years, such collections were lost or thrown out, ostensibly, to the sands of time. But, coming to the rescue is Tom Wyrsch's
"Bob Wilkins in TV Guide"
(Garfield Park, 2014), a terrific, 80-page compendium of ads for many of the horror films Bob hosted from 1966 to 1980. Each tongue-in-cheek ad is presented with the full page from original TV Guides and presented in chronological order (measuring 5.5" x 8.5" to preserve the original magazine size).
Mid-'70s ad, which seems bland until you see the station call letters.
In short, I love it — it's a treasure trove of memories for ads I fondly remember, and others I've completely forgotten, but am happy to see again for the first time in decades (I hope that more of these ads turn up). But, beware — while long-time fans of KTVU-2's immortal horror host and "Creature Features" will find it a must-have —
"Bob Wilkins in TV Guide"
is a limited-edition publication, so don't sit on your claws too long! Bob was a hero and mentor to me and (for better or worse) pushed me into this business (whatever that is), thus I will always be thankful for who he was and what he did, not only for me, but many others.
Bob Wilkins shall not die!
Order your copy, now (operators are standing by)...